Write Nonfiction in November (WNFIN) Challenge
just a week and a half away, it's time to prepare for your 30-day nonfiction writing event. As with any activity that requires that you produce or do more in a short period, you have to get ready. For instance, you can't just go out and run a marathon without training before the big day. You can sprint for a short distance but not for a long one!
National Nonfiction Writing Month (NaNonFiWriMo)
, aka WNFIN, is no different. To write a nonfiction book in a month, you have to spend some time preparing before the writing challenge begins. That's how you cross the finish line with a manuscript in hand.
With that in mind, here are ten ways for you to prepare for a 30-day writing challenge so you increase your chances of success:
Plan out your nonfiction book (or project) in advance.
You can predetermine the structure and content of a nonfiction book before you write it—and you should. That's why you produce a business plan for a book. When you know how many chapters you need to write and what content each chapter contains, you have a good idea of how long it will take to write each chapter. This information helps you schedule enough writing time on your calendar, so you finish your WNFIN project in 30-days. Also, you won't spend time staring at a blank screen if you plan out your book's content.
Apply the same advice to a book as to an article or essay. Plan the structure or content. Use a mind map or an outline or just some bullet points. Then estimate the time it will take you to write. Schedule that time on your calendar.
Do your research prior to the start of the event.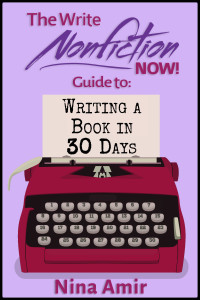 Research can slow down your progress during a 30-day writing challenge like WNFIN. During NaNonFiWriMo, you only want to write. You know why… You've probably had this experience: You're in the flow, writing along, and then suddenly you realize you need a bit of research. So, you stop writing and click through to the Internet. Or you go to your bookshelf to search for a book you know contains the information you need. Three hours later, you haven't written a word—and maybe you found the information you needed.
Don't do this! Instead, do your research now—before you begin the WNFIN Challenge. Have all your project research and information close at hand so you don't need to stop and search for it during your writing marathon.
And if you do find you need some data during NaNonFiWriMo, make a note in your manuscript. Place that note in brackets, like this: [research needed here]. Then, when you edit, you'll remember you needed information, and you can find it at that time. Even better, schedule a research day either during or after November. Do a search on your document for the word "research"; start filling in the blanks.
Know how much time you need daily to meet your goal.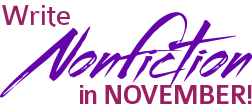 If you planned out your book (or article), you know approximately how long it will take to complete the manuscript. But if you don't make time to write your book during November—just like at any other time of the year, it won't happen.
Break your estimated project time into daily writing periods. If you've estimated that it will take you 30 hours, that's an hour per day. But what if you miss a day? Plan a few longer writing periods on the weekend or add an extra day or two into your writing schedule.
If you are working with a word count, then you easily can figure out how many words you need to write per day to meet you goal. To complete a 50,000-word nonfiction book in 30 days requires writing 1,667 words daily. Since you might miss a day or that goal occasionally, add a few extra writing periods to your November calendar as "catch-up" times.
Schedule writing time daily (or at least six days per week).
No matter how full your typical weekly schedule, it's time to "calendar" your writing periods. Get out your calendar and find times to write—even if they are only 30-minute appointments with yourself. Get them scheduled!
As I mentioned, add a few extra ones or longer ones in case you find the need to catch up at any point during the month.
Create a space conducive to writing.
If you don't have an office or writing desk already, clear a space in you home where you can write. Your writing space should be a sacred space where you go to create your work—in November and beyond.
It's difficult to work in a cluttered space, sitting on a bed, or on the coach while your significant other or children watch television. If you have no space in your home, then find a coffee shop you like or a local library. Bring along some comfort or sacred objects. Clear space. Put on headphones, and get to work!
Find ways to cut out distractions when you write.
That brings me to the need to cut out distractions. Noise-canceling headphones work great to cut out the distractions of chatter and music in a public place or even your children arguing in the next room. However, you also need to get rid of the distractions of email and social networks.
Of course, you can turn off both social networks and email programs. Or you can opt to use some more drastic measures. Discover a plethora of solutions with a Google search (before November), but this post offers seven ways to block out noise and distraction that you might find helpful.
Find a writing buddy or buddies.
All the participants cheer each other on until they reach the finish line. They are all in it together. They share the experience. That's why I created a Facebook page and a forum for the event. (Register to join the forum.)
That's why the National Fiction Writing Month (NaNoWriMo) "write-ins" work. People get together to write. They are accountable to each other.
So join the forum. Get on the Facebook page. And use these to create accountability.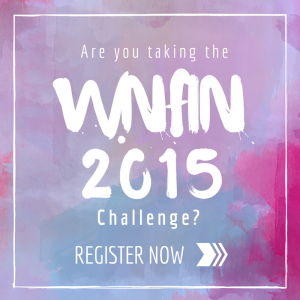 Or find an accountability partner or writing buddy. Such a person should be willing to hold you to your daily or weekly writing goals, not someone who says, "Oh, it's okay that you were too tired today to write. You'll do better tomorrow." You want a buddy who says, "Take a power nap, eat a protein bar, do ten jumping jacks, and then sit down in the chair and write! You can do it! I know you can churn out your word count for today…and I want you to call me or email me when you've done it. NO excuses."
By the way, you can ask for an accountability partner in the WNFIN forum. Look for the thread… Or join my Women's Inspired Writing Results Group, which begins November 3 and meets twice every month for a six-month period. (Men: If you looking for a similar group, I'm in the process of starting one and need a few more interested participants. If that is you, read the description of the women's group here, and then email me here to tell me you are interested.)
Take care of yourself physically.
You can't finish a marathon if you don't, for example, hydrate along the way. The same goes for a writing marathon.
Even though you may squeeze your writing time into an already over-filled schedule, make time to walk, sleep, eat, and drink enough before and during November. Self-care gives you the energy to make it from Day 1 to Day 30 of the challenge.
Read this and this for information on how to become a high-performance writer. Also, my four-week High-Performance Writer course provides "sustenance" during a writing marathon. It keeps you inspired, teaches you how to become a more productive writer and provides self-care strategies to use during a writing challenge as well as all year long.
Pick a doable project.
Don't try to write a 100,000-word memoir—from first to final draft—in a month. That's crazy. You might write the first draft of a 75,000-word memoir in a month if you have many hours per day to devote to it. (That's about ten pages per day. How long would it take you to write ten pages?)
Choose a doable project, like an article or two, four essays, a 5,000- to 30,000-word ebook or even the first draft of a 50,000 prescriptive nonfiction book. These projects you reasonably can complete in 30 days.
That's not what WNFIN is about. It's a personal challenge to help you succeed.
Have a Version–1.0 attitude.
The idea of producing a first draft relates to this advice: Have a Version–1.0 Attitude, not a Version 2.0 or even 3.0 Attitude.

During NaNonFiWriMo, just like during NaNoWriMo, you set out to complete a draft. It might not even be a good draft. (If you do the planning, you can, indeed, produce a good draft of a nonfiction book in 30 days.) Here's the real point: Complete a draft, so you have at least that much done. The draft is the beginning…always. You can clean it up, make it better, revise it, or even rewrite it. But if you have nothing, then…well…you have nothing.

So leave your Inner Perfectionist at the door each time you sit down to write. Leave your Inner Editor outside as well. Invite your Inner Writer to come along, and get writing…as fast or as steadily as you can.

Remember: WNFIN is like a marathon. Prepare. Then write your nonfiction book consistently all month long to reach the finish line in 30 days.

With the