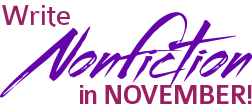 This post provides preliminary information for those taking the 2015 Write Nonfiction in November Challenge (WNFIN), also known as National Nonfiction Writing Month (NaNonFiWriMo). To find out more or participate in the Challenge, click here.
In the past, during WNFIN this blog featured a post every day of November. This year, however, during the Challenge I will publish two posts per week: one on Monday, which features a video (like the one below), and one on Wednesday, which features tips from experts. Both posts will provide information from leading experts in the field of nonfiction writing, publishing, promotion, and monetization.
I hope this new format helps you learn and get inspired as you write but not spend much time away from your WNFIN project. After all, I want to help, not hinder your progress as you move through the Challenge.
If you are not taking the 2015 WNFIN Challenge, continue reading the blog and watching the videos. You will learn a great deal, and if you put that actionable information to use, you may find that by the end of the 30-day period you have changed the course of your writing career forever.
Welcome to National Nonfiction Writing Month (NaNonFiWriMo), most commonly known as the Write Nonfiction in November Challenge (WNFIN)! Although the Challenge begins in four days, now is the time to consider how you will meet the Challenge.
Indeed, to accomplish your goal of starting and finishing a nonfiction writing project in 30 days, you need to be a productive nonfiction writer. You can't say you write when what you really do all day is surf the Internet, post on Facebook, make vet appointments for the cat (and massage, dentist, nail, or personal training appointments for yourself), take snack breaks, or engage in other forms of procrastination. (Recognize yourself?) You have to sit down every day in front of your computer and produce work. That's why I decided to start the Challenge off with a pre-November video on how to focus your attention.
Why didn't I make this video about how to better manage your time? In fact, you can't manage time. Time constantly moves forward one second at a time no matter what you or I do. Try your best, you can't create more time. The quantity of time allotted to us each day is limited.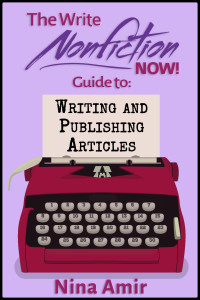 You can, however, manage how you spend the time you possess. To accomplish this, do a better job of focusing your attention every moment. In this way, you accomplish more every hour. When you accomplish more in less time, you feel as if you have created more time.
You can finish a 30-day writing challenge quickly and easily if you focus your attention when you work (not say you are going to work) on your WNFIN project. Don't allow yourself to get distracted. Don't do other things. Block out time to focus and work on your WNFIN project, and place your attention only on that project during that period.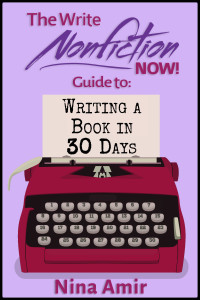 Learn to accomplish this new attention-management habit in November, and transform yourself into a productive writer. Begin churning out articles, essays, queries, books, and other types of nonfiction writing every day, week, and month. You won't need a challenge like the one provided during NaNonFiWriMo to get your work done quickly. Your new habit will help you do so consistently all year long.
If you are new to this blog or have just decided to take on the WNFIN Challenge, you might want to read last week's post, 10 Ways to Prepare to Write a Nonfiction Book in a Month. For information on how to write a nonfiction book in a month, check out The Write Nonfiction NOW! Guide to Writing a Book in 30 Days. If you want to produce an article or essay this month, purchase a copy of my newest guide, The Write Nonfiction NOW! Guide to Writing and Publishing Articles (released today).
Please leave a comment below and tell me about the results you achieved when you applied the techniques offered in this video. Or share your best productivity tips or hacks.
For more information on how to become a productive writer, click here.
Take the Challenge!
To learn more about how to take the WINFIN Challenge and participate in NaNonFiWriMo, click here.
Are you ready to take the challenge? If so, click here. When you submit your name and email address, you "register" for the event and gain access to the WNFIN forum.

Hyperlinks to books and resources may contain my affiliate code.