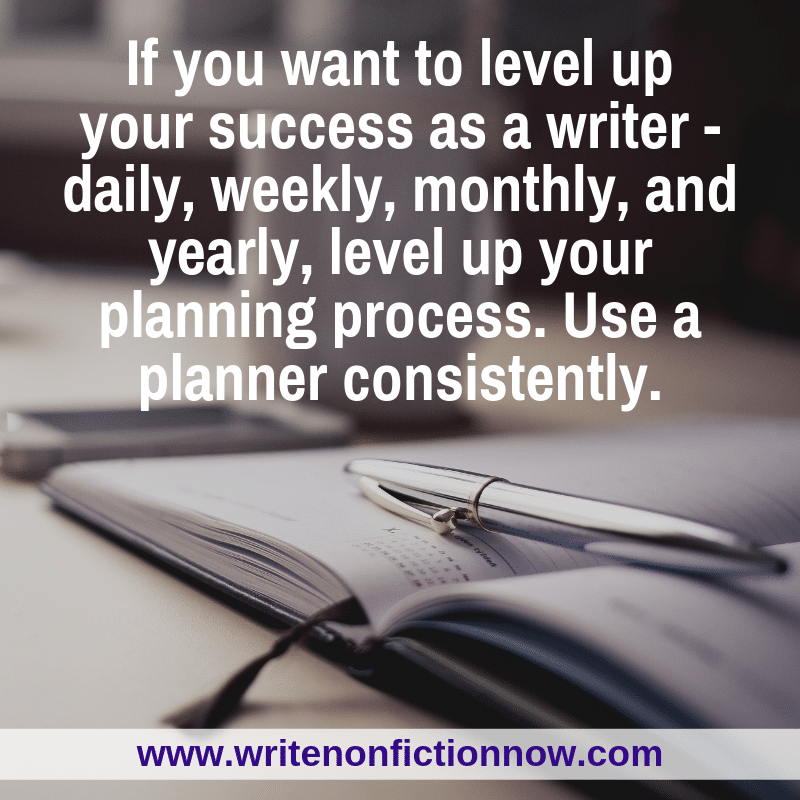 How do you approach your writing? Do you write when inspired, have time, are on a deadline, or on a set schedule? The highest performing writers—those who are consistently productive, accomplish their goals and make a difference with their work—plan. And the success tool they use most often is a planner.
A regular old calendar will do the job, but a planner takes this task to the next level, thus increasing the chances of succeeding at whatever you take on. In addition to merely putting tasks on a calendar, a planner asks you to set goals and deadlines, focus on gratitude, identify problems and solutions, and be introspective about your growth as well as proactive about your days.
From Calendar to Planner
When I became a Certified High Performance Coach, I quickly realized my online calendar was not enough to get me from where I was to where I wanted to go. I had set my sights on achieving many things and up leveling my success in all areas of my life. The calendar had served me well to date, but it wouldn't get me where I wanted to go. I needed more.
When I was coached as part of a Certified High Performance Coaching group, I was given a "One-Page Productivity Planner." That document helped a lot, but I wanted something digital. So, I created a mind map identical to the printed sheet I'd been using. That served me for a while.
I definitely improved my overall performance—work, health/fitness, personal, and relationship—by intentionally and consistently planning. I was hooked on the daily, weekly, monthly planning process.
Almost every year on this blog, I recommend that writers go through a yearly, monthly, and weekly planning process. I still believe this to be an essential success practice, but consistent daily planning gives you real impact on your writing career. With consistent daily planning part of my life, I see massive results. I am so much more productive, mostly because I am clear about what priority actions I need to take each day. I know where to focus my attention, and, therefore, I get more done.
On the days when I fail to do my planning, I accomplish much less. I have to admit, without the plan, I'm very unproductive on all counts. Life will often get in the way, or I'll end up focused on what seems like a priority at the moment to the detriment of my writing projects. Of course, they are the priority!
Planners Galore
But the more I worked with my One-Page Productivity Planner, the more I realized I needed more. I needed a planner that would help me get a handle on my weeks, months, and year.
That's when I began trying different planners. I've tried the Panda Planner, John Lee Dumas' Freedom Journal and Mastery Journal, The Passion Planner, and Brendon Burchard's High Performance Planner. I recently ordered Michael Hyatt's Full Focus Planner, which doesn't arrive until September. And I just started using Chalene Johnson's Smartlife Push Journal, which I received at one of her events.
In the end, however, none of these journals met all my needs. So, I created a digital planner of my own. Well…not really my own. I took what I liked best about the Panda Planner, The Mastery Journal, and the High Performance Planner, and digitized it. In other words, I typed it all into daily, weekly, and monthly Word files. I stored them in the iCloud, and now can use them from all my devices.
The Right Planning Tool for Your Success
After five months of using my version of these planners, I have to admit I'm still not happy with my process. I can also tell you that I am hooked on the daily planning process and know it makes a massive difference in my ability to succeed as a writer and in all areas of my life. I have not given up on planners…not by a long shot. (I'll likely give both The Mastery and Freedom Journals another chance as well as the Panda Planner. And I'll try the Full Focus Journal, too.)
Here's what I can tell you after my own trial periods with all these planners:
Choosing the right planner is an individual endeavor; everyone is different and has different needs.
Each planner offers you the opportunity to focus and gain clarity on what you want to accomplish and what you need to do to achieve your goals.
By using a planner, you increase your performance in all areas of your life.
Planners can be simple and still work well.
And, I also know for sure that consistent use of a planner helps me succeed. It will help you succeed, too, which is why I am challenging you this month to use a planner for at least 30 days.
June Nonfiction Writer's Challenge
To complete this month's challenge, purchase or download a planner and use it for at least 30 days consistently.
You'll need a planning process. I like to plan the next day when I end work. Before I shut down my computer, I look at my online calendar and make a note of what appointments I have set. I then plan my projects and priorities around them. I block out time for my morning routine on the calendar as well as for writing. I also add items from my to-do list. My schedule can include anything from making phone calls to checking email to working out. I might add a time block for a walk, making dinner, or calling my mother. I also check off what I accomplished and determine what I need to achieve the next day.
Yes, this seems super structured, but it works! Please…just try it for a month and see if you don't find yourself more productive and, therefore, more able to manage all areas of your life. Specifically, notice how much writing you get done.
After I "calendar" my day, I complete any journal prompts related to the end of the day. For instance, my journal might ask me what I learned that day or what I could have done better. The prompts are included in whatever journal I'm using. I do not make up my own.
The next morning, I review my calendar and recheck my priorities for the day. (These are likely three to five items on my to-do list.) I make sure each priority has time blocked for me to focus on it. I then fill out whatever prompts are in the journal I'm using, such as what I'm grateful for or affirmations. I check my planner periodically during the day to ensure I stay "on task," focused, and effective.
Create your own planning process. Yours does not need to be like mine.
Pick Your Planner
I've been asked several times to do a review of the planners I've used. I'm reticent to do so; I really do believe everyone needs to try them out and see what works best for their needs. That said, they tend to be expensive. So, below find a short review of the planners I've used to date.
Panda Planner: I love the simplicity of this six-month planner, which comes in a smaller size as well as the larger "pro" size. I believe the smaller size is missing one or two prompts but works just as well. I loved the prompts in this one as well as the organization. I did not like that the month and week were in separate sections away from the daily pages. Thus, there was no reminder to use those sections.
Freedom Journal: I love how this journal focuses in on achieving a goal in 100 days. It helps you track your progress and identify what you will do daily to move toward your goal. I plan to use this journal for some future goals to keep me focused, and I highly recommend it for that purpose—goal achievement. It is not a regular monthly or yearly planner, though.
Mastery Journal: This is a super 100-day (three-month) planner. I like its brief prompts and attention to a morning routine and four priority time blocks. What I love about it is this: Every 10 days, you track your productivity and discipline on a chart. This was an eye-opener for me! What I did not like was the focus on 10-day blocks rather than 7-day weeks. It also doesn't have a section to plan your month or week.
The Passion Planner: I know a lot of people who like this journal, but I did not. I used a version of it that I printed from a PDF—maybe that was the problem. But I didn't stick with it for more than a week or two.
High Performance Planner: I really liked the prompts in this 60-day planner. Burchard has a strong focus on asking powerful questions and on mindset, and I thought I would enjoy that, but it was more than I wanted. I also found the lack of a calendar at the start of the journal problematic. There's a super weekly review—that does appear at the end of seven days, and the monthly planning pages are useful as well. I liked that I could tie my high performance work into my planning, and the reviews were tied directly to high performance habits. This is a good option if you are focused on any of Burchard's work or getting coached by a Certified High Performance Coach.
Smartlife Push Journal: I've only just started working with this 30-day planner. What I like about it is the focus to take action and "push" toward a big goal. It also has a helpful focus on health and wellness. Each day you plan for your goal and health. The daily tracking involves both of these areas. While it has you do quite a bit of work on creating your goals and brainstorming steps to take toward it, it does not include a monthly calendar. It does have a place to bock time for all your daily activities.
None of these planners are meant to take you through the entire year. So keep in mind when purchasing, you will need to buy four or more to get you through 12 months.
When it's all said and done, though, a planner is the success tool you need to become a high-performance writer. Whatever behavior, habits, mindsets, or dreams you want to create, a planner will help you move toward those goals. In the process, you'll find yourself stepping into a better version of yourself—one with a greater ability to succeed as a writer.
Take this challenge! Then, in a comment below, tell me how planning your days, weeks, and months helps you succeed as a writer.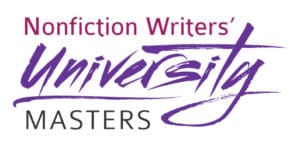 Would you like to learn more about becoming a succesfull, prolific, and productive nonfiction writer? Check out the Nonfiction Writers' University MASTERS program, where you can receive ongoing Certified High Performance Coaching, including the High-Performance Writer and Charged Writer programs. Learn all the steps to becoming a successful—and profitable—author. Discover how (finally) to write consistently, boldly, enthusiastically, and productively. Develop the mindsets, strategies, habits of the world's most successful writers. Make your difference today.
Click here to learn more
. (And if you aren't ready for the Nonfiction Writers' University Masters program, explore the Nonfiction Writers' University. You can enjoy a
30-day trial membership for only $1
.)
Photo courtesy of Balintmohamed_hassan / Pixabay.com